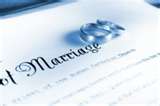 The Marriage provisions of the Civil Registration Act, 2004 became law on 5th November 2007. This legislation brought about major changes in the procedures for solemnising the registering marriages in the Republic.
The main changes in relation to religious marriages are as follows:
The requirement that all couples attend in person at the Registrar's office to give their notification, establish their identity and freedom to marry, and sign declarations of no impediment;
The requirement that all couples must be issued with a Marriage Registration Form (MFR) by a registrar before the marriage can proceed
The new Register of *Solemnisers; all those solemnising marriages in the State on or after 5th November 2007 must be on this Register which is maintained by the General Register Office. The Register of Solemnisers is maintained by the General Register Office and only GRO staff can add, delete, or amend registrations. If your priest resides outside the state, please ask him to contact the GRO Marriages Unit, Government Offices, Convent Road, Roscommon, phone 090 6632945/6/7/8/9 or website www.groireland.ie
Marriage Registration
All couples must contact the Registrar and make an appointment to give their three-month's notification of intention to marry (in person). As registration districts are being abolished, they may do so at any office in the country, not necessarily in the area where they intend to get married.
The office currently covering the Dublin 15 area is:
Civil Registration Office, Joyce House, 8/11 Lombard Street East, Dublin 2.
Telephone: (01) 671 1968
All couples will be requested to bring with them to the appointment:
Photo ID (preferably a passport or driving licence)
If one or both of you are divorced, the original divorce decrees in respect of any previous divorces they may have
If one of you is widowed, the death certificate of your previous spouse
Name and address of the priest who will officiate at the marriage; this presumes that the celebrant is a registered solemniser and that he has agreed to officiate at the marriage
Name and address of the church where they wish to be married
Date of marriage
Names and dates of birth of their witnesses (Bestman / Chief Bridesmaid)
Their PPS Numbers (where either or both of the parties have one)
Birth Cert
Proof of address – utility bill.
It is important that couples have all documentation in order before their visit to the Registrar's Office in order to avoid the necessity for a second visit.
Without the Marriage Registration Form (MRF) the couple cannot get married, nor may the solemniser proceed with the marriage ceremony.