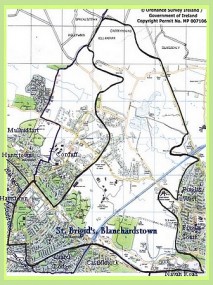 Division of Parishes     
Due to the evergrowing population of Dublin 15, which began in the 1970s, and continued through the 1980s, 1990, and up to recent times, a number of new parishes were created within the original boundaries of Blanchardstown.
The first of these – Castleknock and Corduff were created in 1976.
These were followed in 1979 by Blakestown and Hartstown; Mountview also being constituted from Corduff in that year.
Blakestown was further divided in 1981 to produce Huntstown (which like Hartstown is just off the map).
Further divisions of Castleknock formed Laurel Lodge in 1982, and Porterstown/Clonsilla in 1986.
The parish most recently constituted from Blanchardstown was Mulhuddart in 1993.