Church Regulations
Pre-marriage (Pre Nuptial Enquiry Papers)
These papers are usually prepared by the Priest in the parish in which each of you lives at present. It is very important to note that a minimum of 3 months' notice needs to be given to the priest of both the bride's and the groom's own parishes as well as to the priest of the church where the couple wishes to marry
If the couple is under 18 then the requirement is 6 months' notice.
Bookings for the marriage ceremony need to be made in person directly with a priest. Only in exceptional circumstances and subject to verification, can this be done by a representative.  Marriage documents need to be completed and this requires meeting with the priest, usually of your local parish.
The following will be required for that meeting:
The baptismal certificate should not be more than 6 months old.
Confirmation Certificate which is not more than 6 months old.
Document/s indicating freedom to marry.
These forms indicate that you are a full member of the Church and that there is no record of you having been married previously in the Church.
Pre Marriage Course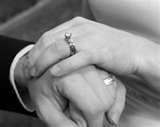 Attendance at a Pre-Marriage Course is strongly recommended for all couples. This is compulsory outside the Archdiocese of Dublin.
For further details log on to www.gettingmarried.ie or phone one of the following:-
ACCORD at 478 4400 or www.accord.ie; MOUNT ARGUS at (01) 2964257 www.together.ie;
NAOMI at (01) 8786156;  or All Hallows College at (01) 837 3745.
For the Interchurch Pre-Marriage Course, please contact EMBRACE at (01) 4784400.
Flowers for the Wedding Ceremony

The Flower Arrangers who decorate our church throughout the year are happy to provide flower arrangements for the marriage ceremony.
The bride and groom are required to contribute to the cost of the flowers.
Contact: Dolores O'Leary c/o the Parish office.
In this diocese, Church weddings can take place on any day other than Sundays and major feast days. See below the dates not available for Church Weddings.
Major Feast Days and Holy Days of Obligation
Ash Wednesday
17th March St. Patrick's Day
Easter Triduum – Holy Thursday, Good Friday, Holy Saturday
15th August Assumption of Mary
1st November All Saints Day
8th December Immaculate Conception
25th December Christmas Day