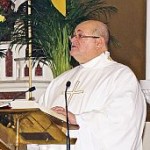 Our Deacon is Jim Adams
"I am a married man from Coolock, we have four adult children. I graduated from All Hallows Drumcondra with an honours degree in Theology and Philosophy in 2008, I am also a graduate of Mater Dei and Maynooth Pontifical College (certificate in Marriage education).
I worked for a leading tool hire company for twenty years- 10 years in Coolmine industrial estate. Currently I work part time, as assistant to a liaison Officer in Rehabilitative training for a charity that supports people with limited mobility.
In 2012, I was ordained in the Pro Cathedral as part of the first group of permanent deacons ordained in Ireland. After ordination I was appointed to the parish where I lived- St Joseph the Worker Bonnybrook.
I have a great belief in, and commitment to marriage and I am a volunteer with ACCORD for the last 10 years working in marriage education.
I am a volunteer with Special Olympics and I mentor an athlete as part of the Athlete Leadership programme.
I was appointed to St Brigid's Blanchardstown in October this year and I am looking forward to working in this parish over the coming years."