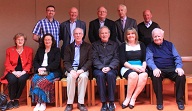 St. Brigid's 1st Parish Pastoral Council was set up on 11th April 2005 in response to the decision by Archbishop Diarmuid Martin that a Parish Pastoral Council be established in every parish in the Archdiocese of Dublin.
Who we are
Our Parish Pastoral Council is comprised of the priests of the Parish, members elected at a public Parish meeting and a representative of the Parish Finance Committee. Meetings are held monthly except during the months of July and August.
On Monday 10th October the meeting to choose the Third Pastoral Council took place in Scoil Bhride Hall. We wish to thank Dermot Gannon  who has done great work as Chair of the Second Council and now retires.  Ronnie Carroll and Carol-Anne Nugent have finished their stint and we thank them for their contribution.
The New Coucil met for the first time on 14th November 2011 and comprises Frs. Jones, and Casey, Kevin Mulally, Liam Dunne (elected chair at the meeting), Jim McKeon, Anne Garrigan (elected secretary at the meeting), Larry Kelly, Marie Rooney, Helen Power. Patricia Monaghan,John Brophy, Martin Lynch, and Sean Feeney are the latest members to join up. We wish the Council well.
What we do
Listen to parishioners and, through prayer, reflection and discussion, ascertain the needs of the parish.
Encourage and support new Parish initiatives.
Encourage all parishioners to use their gifts and to participate fully in Parish Life
Plan and organise how best to use those gifts and resources available to us at parish and diocesan level.
Communicate with parishioners through meetings and newsletters, and encourage feedback through surveys and questionnaires
Affirm existing ministries and provide on-going spiritual formation for all Pastoral Council members. Identify areas that need support and skills.
Interact with Pastoral Councils in the surrounding parishes. Help, support and learn from each other.
Continually evaluate and review the work of the Pastoral Council in order to grow with the changing needs of the Church today.
The Report of the previous Parish Pastoral Council Activities can be seen here.
We welcome your comments and any suggestions you may wish to make on the work of the Pastoral Council. You can contact us through the parish office.