World Meeting of Families 2018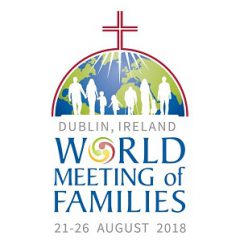 Volunteer Application Process is now open for the WMOF 2018. You can apply to volunteer at www.worldmeeting2018.ie/volunteer. There are flyers around the church with further details.
In excess of 1,500 people have already expressed an interested in volunteering. Now we are ready to start registering you through the application process. Everyone who has expressed an interest in volunteering will need to fill in their volunteer application form. If you have not expressed your interest in volunteering, you can apply directly on the link below. We are really excited and can't wait to get started! We have also uploaded information on our volunteer programme to our website. Have a read and please keep spreading the word and apply to volunteer: www.worldmeeting2018.ie/volunteer.
Applicants to volunteer must be residents of the island of Ireland at the time of application and be over 18 years of age, as of 1st January 2018 (or as part of a group), among other terms and conditions. Volunteers can also help in the lead up to the event in the main offices of WMOF2018 and in various preparatory events taking place around Ireland.