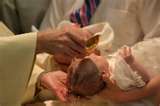 The birth of a child is a very special and joyous occasion for parents. The Church in the parish are very glad to share this joy and warmly encourage people's wish to have their child baptised and received into the Catholic Church.Baptism is just the first step of becoming a full member of the Church.
In due course, parents will hopefully present their child for First Communion and Confirmation.Parents are the first and most important teacher of their child's faith and spirituality. In the baptismal ceremony the parents are asked to reject the things that destroy us as people and they are asked to renew their faith in God: The Father, the Son and the Holy Spirit. Parents will also be asked to do this on behalf of their child.
Baptism Times:
Baptisms are held on the 1st, 3rd & 5th Saturdays of the Month at 12.00noon.
Afternoon Baptisms are discontinued.
Arranging a Baptism:
Parishioners who wish to have their child baptized are asked to contact the sacristan or parish secretary, giving at least one month's notice, to check availability of dates.  They then collect a booking form which is to be completed, signed by both parents and returned to the office, accompanied by a copy of the birth certificate, to confirm their arrangements.  As there is a great demand, early booking is essential if you require a particular date.  People who are not parishioners may, in certain circumstances, have their child baptized in St. Brigid's but need written permission from their own parish priest to do so.
Baptism Team:
A Baptism Team was set up in 1997. The team followed a Baptism Ministry Training Course in Clonliffe College and commissioning at Easter 1998.They visit and support parents who have a child for Baptism. Two members of the team make arrangements to visit the parents at a suitable time before the Baptism. During the visit the parents are taken through the ceremony, the requirements for the Sacrament are explained and the necessary forms completed.
The team also arranges meetings for parents who are not parishioners. These meetings are held in the Church, on the 3rd Monday of every month. Two team members are also present at the Baptismal ceremony and welcome the babies and their parents on behalf of the Church Community.
Contact: Joan Lynch c/o Parish office.
Tel: (01) 811 5412
Baptismal Certificates:
Available from the Sacristan, 9.30am to 11.00am Monday to Saturday, or from the Parish Secretary 10.00am to 1.00pm, Monday to Friday