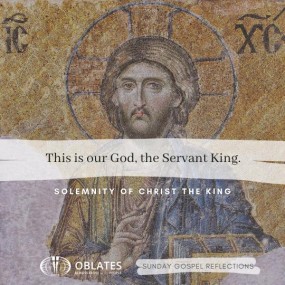 Today we celebrate the Feast of Christ of King; it is the last the Sunday of the current liturgical year in the Church. Next Sunday Advent begins. Today is about endings and beginnings. These months have been and sadly continue to be draining, demanding and difficult on a personal, local, national and global level for all of us. Advent is the season of joyful hope, so we pray that at this time of the year that with God's help we will do all we can to remain faithful, optimistic and hopeful.
In this Gospel, Jesus speaks about the 'end times'. He describes what will take place when what is called 'the final judgement' happens. The question being asked is where will Jesus be found now and at the end of time? Christ the King will not be found in a palace living in wealth exercising power. Jesus will be found were the most in need are; refugee camps, homeless shelters, hospitals and prisons. Those who call themselves followers of Jesus will also be found there welcoming, listening, reaching out and caring for those whose are poor and on the margins of both church and society.
The Kingdom of God is a kingdom of truth and life, holiness and grace, justice, love and grace. It is not a kingdom of power, prestige or politics. As those who call ourselves 'Christian' and follow Jesus, we are called not only to enjoy the benefits of the Kingdom, but to do all we can to build and promote it here and now. We do this through how we live and treat others, especially those who are excluded and marginalised. We are called to be active participants not just silent spectators in God's Kingdom. Scripture reminds us of when we read, 'our love is not to be words and just talk, but something real and active.' (1 Jn. 3.18). We are called to feed the hungry, house the homeless, visit the prisoner, clothe the naked and welcome the stranger wherever and whenever we can.
Through his life death and resurrection, Jesus ushered in the Kingdom of God; a Kingdom where all belong. Today Christ calls and invites each of us personally to follow him and to share in his mission through the quality of our daily lives. Each of us are now called and invited to cooperate with Jesus as we continue to build and promote the Kingdom of God. To be a member of God's Kingdom requires that we carry on and continue the mission and ministry of Jesus.
We are also called to follow the example and actions of Jesus as we strive to make God's kingdom a vital and vibrant reality in our own and in others lives. Jesus the King came to serve not to be served. He reached out to those who were the poorest and most despised. He came to them with the message; I have come to bring the Good News to the poor. He left us the example which we are to follow; he bent down, took the place of the servant, washed our feet and said, 'I have given you an example so that you may copy what I have done.'
The Kingdom of God is a kingdom of truth and life, holiness and grace, justice, and love. As followers of Jesus the Servant King and members of God Kingdom, we are also called to live  lives of truth, holiness, grace, justice and love. This is not as difficult as it sounds, but is does require that we commit ourselves to the person and values of Jesus. It also asks that we dedicate ourselves to others as we build and promote God's Kingdom. As Jesus says, 'This is my commandment: love each other as I love you.'
– Br Michael Moore OMI