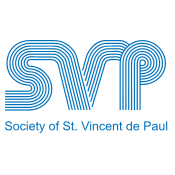 The Society of Saint Vincent de Paul exists to fight poverty
It is the largest, voluntary, charitable organisation in Ireland. Its membership of 9,500 volunteers throughout the country are supported by professional staff, working for social justice and the creation of a more just, caring nation. This unique network of social concern also gives practical support to those experiencing poverty and social exclusion, by providing a wide range of services to people in need.
Known for their confidential, empathic service, the Society has 3 conferences which serve in our Parish:
The Parish Conference – gives practical help and a listening ear to those parishioners who are in need.
Our Lady of the Rosary Conference for Travellers – provides support for Travellers.
St. Louise's Conference – visits long term geriatric patients and psychiatric patients in Connolly Hospital.
All conferences welcome new members with a willingness to help.
IF YOU ARE IN NEED OF HELP, OR WISH TO BECOME A MEMBER OF THE SOCIETY PLEASE CONTACT THEIR OFFICE @ (01) 855 0022
For more information view their website  www.svp.ie