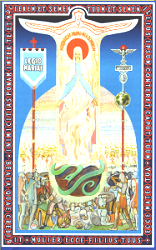 The Legion of Mary is a lay organisation dedicated to Our Lady, founded in Ireland by Frank Duff and now spread to many countries through out the world.  Today, between active and auxiliary (praying) members there are in excess of 10 million members worldwide making it the largest apostolic organization of lay people in the Catholic church.
New members of all ages welcome
The Blanchardstown Praesidium has now been restored under the title "Mary, Help  of Christians".  Its work includes:
Visitation of Hospitals
Helping homeless men women and children in the  Legion Hostels
Visitation of homes in Blanchardstown parish
Discussion Groups and other projects
Members meet in the Jubilee Room, by the Church Extension on Monday nights at 8pm.
Contact:  Padraic (01) 872 3401 or  Mark 085 119 5373
email:   [email protected]    web:  www.legion-of-mary.ie