Dublin Diocesan Knock Virtual Pilgrimage
Dublin Diocesan Knock Virtual Pilgrimage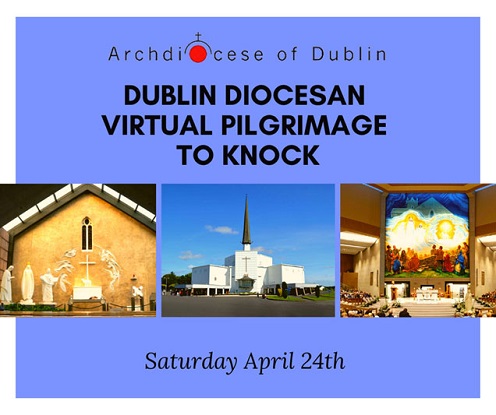 "DUBLIN DIOCESAN PILGRIMAGE TO KNOCK – ONLINE ADULT & FAMILY PILGRIMAGE
The Dublin Diocesan Pilgrimage to Knock will take place on Saturday April 24th with a programme of online workshops from Our Lady of Victories Church, Ballymun Road via webcam commencing at 11.50am.
The workshops themes will include Challenge for Families, the Holy Spirit and St Joseph & the apparition.                                                                                                                                                                                                                                                                                
From 2.30pm, we will switch to the Knock Shrine webcam for the rosary, the Pilgrimage Mass at 3pm and opportunity for quiet time in the Apparition Chapel.  More details to follow next week.
Last month, Pope Francis elevated Knock to an International Sanctuary of Special Eucharistic and Marian Devotion, placing it at the same level as Lourdes and Fatima.                                                                                                                                                                                 
We look forward to welcoming you on our virtual pilgrimage which we hope will be a moment of inspiration and encouragement for our Archdiocese at such challenging year for so many people."