Gospel: Matthew 28:16-20
 Before he leaves this world, Jesus promises his disciples that he will be with them always
And Jesus came and said to them, "All authority in heaven and on earth has been given to me. Go therefore and make disciples of all nations, baptizing them in the name of the Father and of the Son and of the Holy Spirit, and teaching them to obey everything that I have commanded you. And remember, I am with you always, to the end of the age."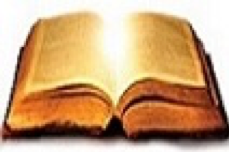 May your words, O Lord be on my lips, and in my heart.  May they guide me on life's journey and keep me near to you.
---
Last Will and Testament
In the gospel we have just heard Our Lord's final instructions, his Last Will and Testament. Just before leaving them, he reminds them of what he expects of them. Earlier he had sent them out to spread the Kingdom of God. Those who go in his name, do so with his authority. The authority goes with the mission, so to speak. In Matthew's version he now adds this great promise, "I am with you always, even to the end of the age." Mark says that the Lord worked with them and confirmed the message by the signs that accompanied it". And Luke emphasises that they will be "clothed with power from on high", that is, with the inspiration of the Holy Spirit.
Jesus is very definite about what he has to say. Like any gathering of people, the feelings of his disciples were varied. But he sends them out to speak and act in his name.
Their mission was both easy and hard: easy to understand but hard to carry out. It was to teach others all that he had taught them. Just as he asked them to follow his way, they were to ask that others should follow that way too.
Has a doctor ever put you on a course of antibiotics? The most basic guidance about antibiotics is to complete the course. Even if the patient starts to feel well after a few days, to discontinue taking the medicine can let their condition grow worse.
Similarly, the message of salvation must continue to be shared until the end of time. With all the changes in the church and in society, neither Jesus nor his message have changed. His Gospel remains a call to live our lives to the full.
You write a new page of the gospel each day,
through all that you do and whatever you say.
Others read what you write, be it faithful or true.
So what is the gospel according to you?
He is with us always. This can be a real help against loneliness. Being alone is not the same as being lonely. One can feel lonely in a crowded street; or alternatively, like Cicero, never less alone than when alone ("minus solum, quam cum solus"). This applies especially to those who believe the promise, "l am with you always." Talking with him doesn't even need words. If we are open to His presence in our heart, and treasure it, we can experience fully that "Joy of the Gospel" so warmly described for us by our good Pope Francis.
https://www.associationofcatholicpriests.ie/2020/05/24-may-2020-the-ascension-of-the-lord/